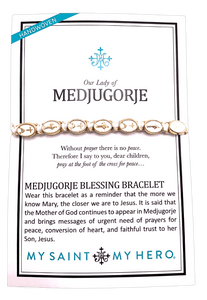 Our Lady of Medjugorge Prayer Bracelet
"If you knew how much I loved you, you would cry of joy." —Our Lady of Medjugorje. 
This stunning bracelet is handwoven in Medjugorje, Bosnia, and Herzegovina and opens to 9.5", and closes to 6.25.  The bracelet features 10 white enamel and gold-tone Our Lady of Medjugorje saint medals. 

---
We Also Recommend